Beware the Curve
It's no secret that lumber prices have been exponentially high since 2020. As material availability is also in short supply, it has required many businesses to adapt to inflation and demand. You may be wondering, is this going to be a permanent change to the furniture industry?
In short, the answer appears to be no. Many economists are convinced that the economy is making a return to normalcy as consumers return to their jobs. Many records are showing that the growth we've seen has "peaked." Retail sales are on the rise and increases in prices will begin to slow to encourage consumer spending. However, the journey down the curve could catch many unsuspecting business owners by surprise.
As the curve begins sloping downward, you can avoid these surprises by being prepared with solutions for the changes as we close out 2021.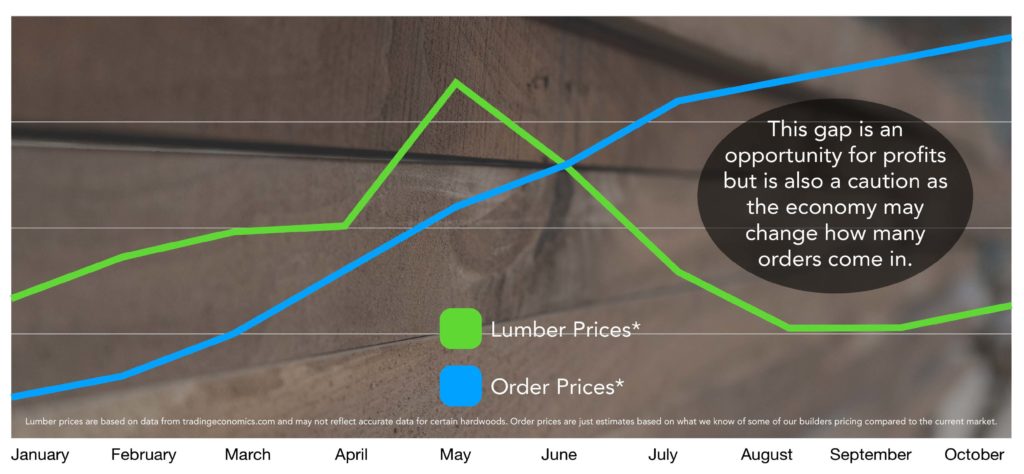 Read Stock Market Articles
Right now, staying informed about the economy is crucial to being one step ahead of the lumber industry and your purchase orders. Be sure to compare the articles you read with other sources to be sure the content you are receiving is up to date and trustworthy.
Track Your Revenue
Are you beginning to make a much larger amount in sales? With the sort of decline, we are beginning to see in inflation, this could be a sign your business has reached the "curve" already. This is the most important stage to begin altering some areas of your business.
Adjust Your Catalog and Price Lists
Consumers are the key component of our nation's economy. As the curve drops downward, your business could be in danger of not gratifying customers. Look into ways to keep your products and prices feasible for both your business and your consumers.
If your prices and lead times remain at their current increase, it would be wise to consider dropping them again. Be aware that your competitors may be dropping their prices and lead times as well.
Pay attention to the popularity your products gained in the past 12 months as well. It may be time to discontinue a product and open opportunities to introduce a new product.
Though recent changes in our economy have placed many businesses and consumers in difficult situations, there is hope on the horizon. Keep your eyes open for the curve that we are preparing to see in the furniture industry.