Amish Furniture Styles: A Brief Guide
When selling Amish-made furniture you will need to distinguish between the different styles of furniture available and the characteristics unique to each style. There are five main styles of Amish furniture which include traditional, mission, shaker, modern, and rustic. While there are subsets and movements within the umbrella of each style these are the main styles to be aware of in the Amish furniture industry.
Traditional Style
Graceful Ornamentation • Claw Legs • Scallop/Shell Designs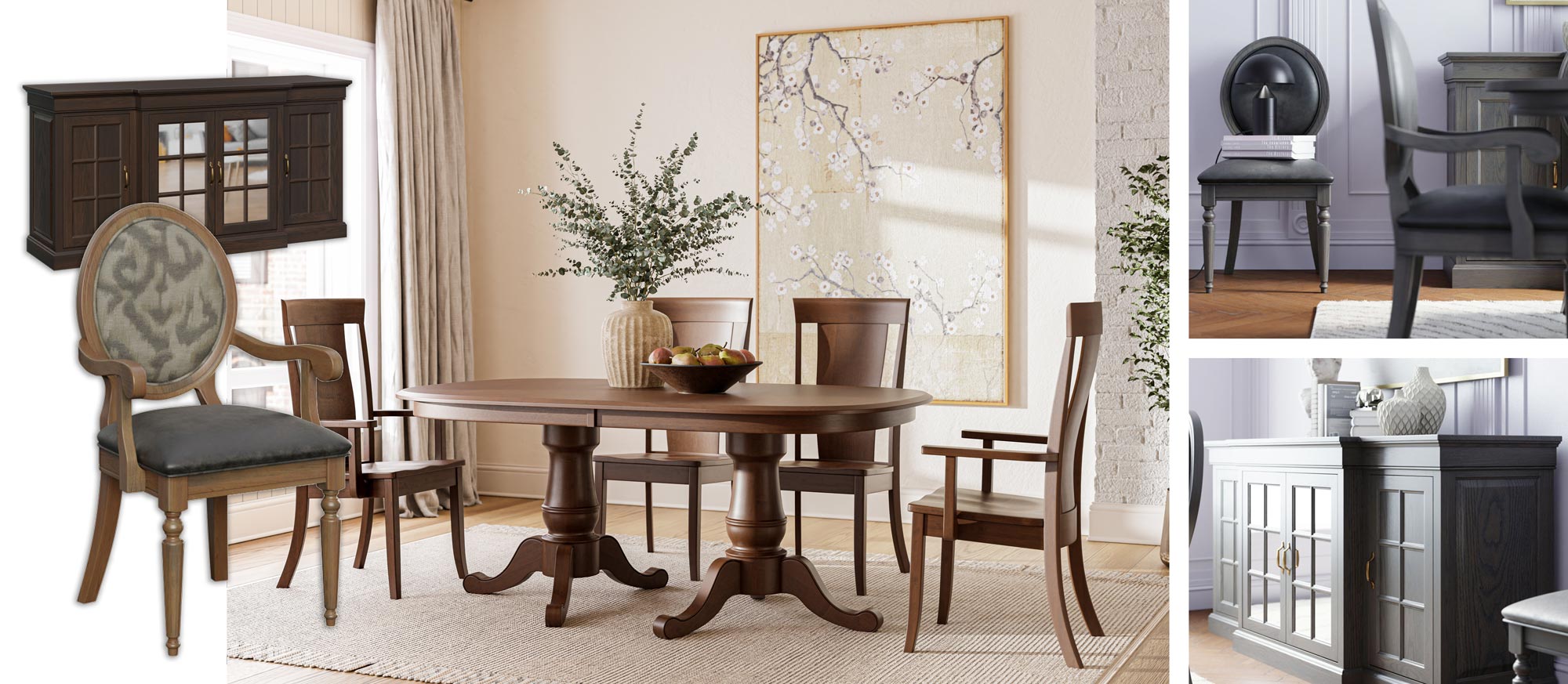 No other style carries the rich history of Traditional furniture. This style encompasses many periods of European and American furniture and is the most common style for antique furniture for this reason. Traditional furniture derives its looks from the Victorian and Edwardian periods. Elaborate and formal, this furniture filled the manors, palaces, and estate homes of the upper classes and nobility. To this day, Traditional pieces fill many homes because of inheritance. When Amish craftsmen adopted Traditional furniture, they naturally excelled in displaying the carved details, and the exquisite dark, rich finishes.
Typically, Traditional styles are best suited for regal older homes and townhouses built before 1950. These are often gable-front homes with columns, covered entryways, front porches, and dormers. Traditional furniture usually features graceful ornamentation, straightened lines, and tapered legs. You will often find scallops or shell designs, bun, ball, or claw foot legs and chair arms, as well as luxe upholstery.
Mission Style
Simple Edges and Lines • 90 Degree Angles • Exposed Joints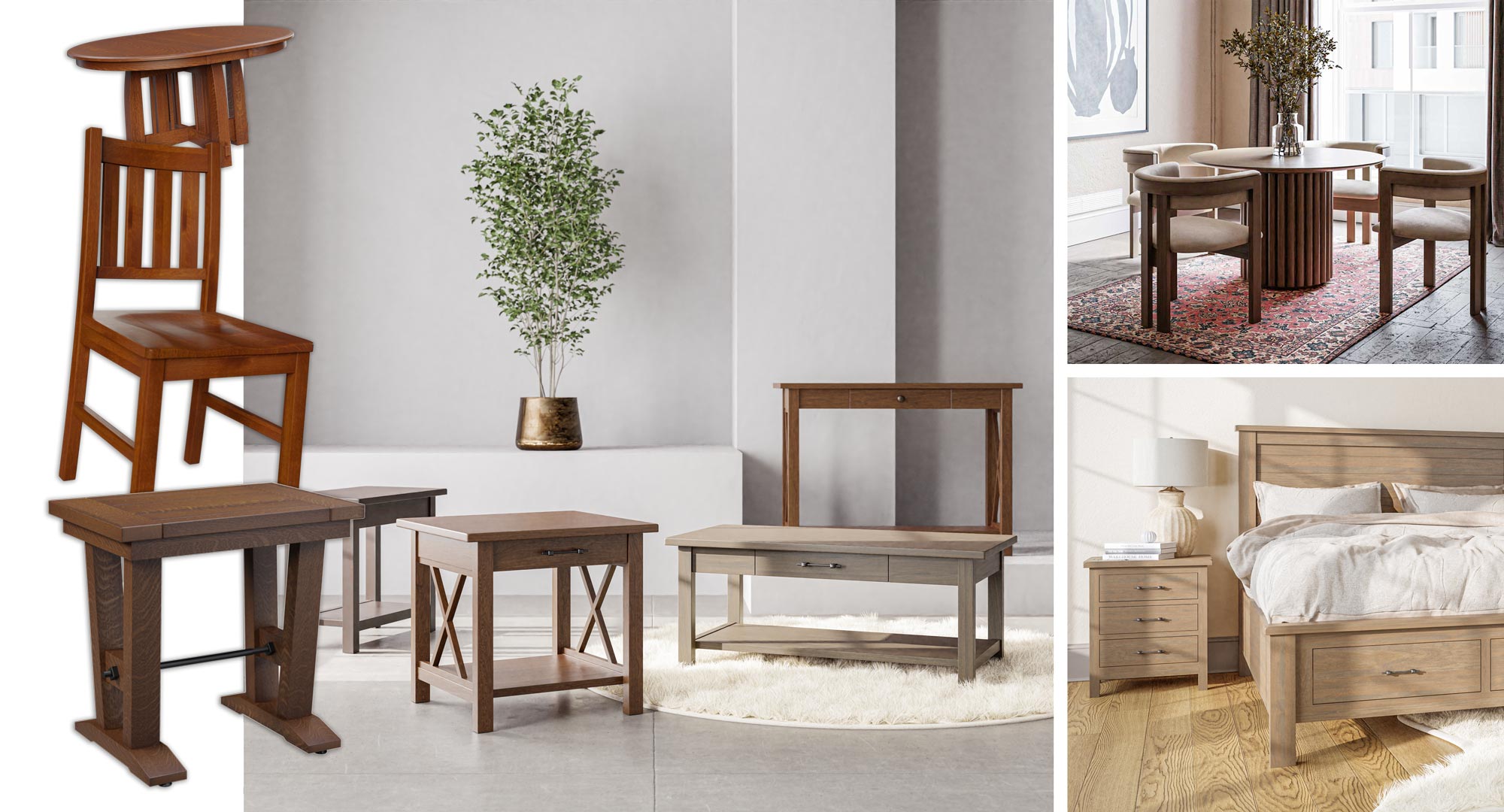 Mission-style Furniture came to prominence in America in the late 1800s as a reaction to the opulence of Traditional furniture. Originally named as a reference to the furniture set up during the Spanish Missions in the American West, that furniture is ironically not what we would recognize as "Mission" today. An early initiator of this style is the Arts & Crafts Movement which falls under the umbrella of Mission furniture that is still in demand today. The attraction to the Mission style has had low points but it made a strong resurgence in the mid-1980s as people came to appreciate the sturdy elegance and functionality. The Amish excel in Mission furniture, and most will have many mission collections.
Typical Mission characteristics are 90-degree angles and simple edges without beveling. It often has long straight vertical and horizontal lines, parallel slats, and exposed joints.
Shaker Style
Wood Knobs • Simple with Gentle Curves • Tapered Legs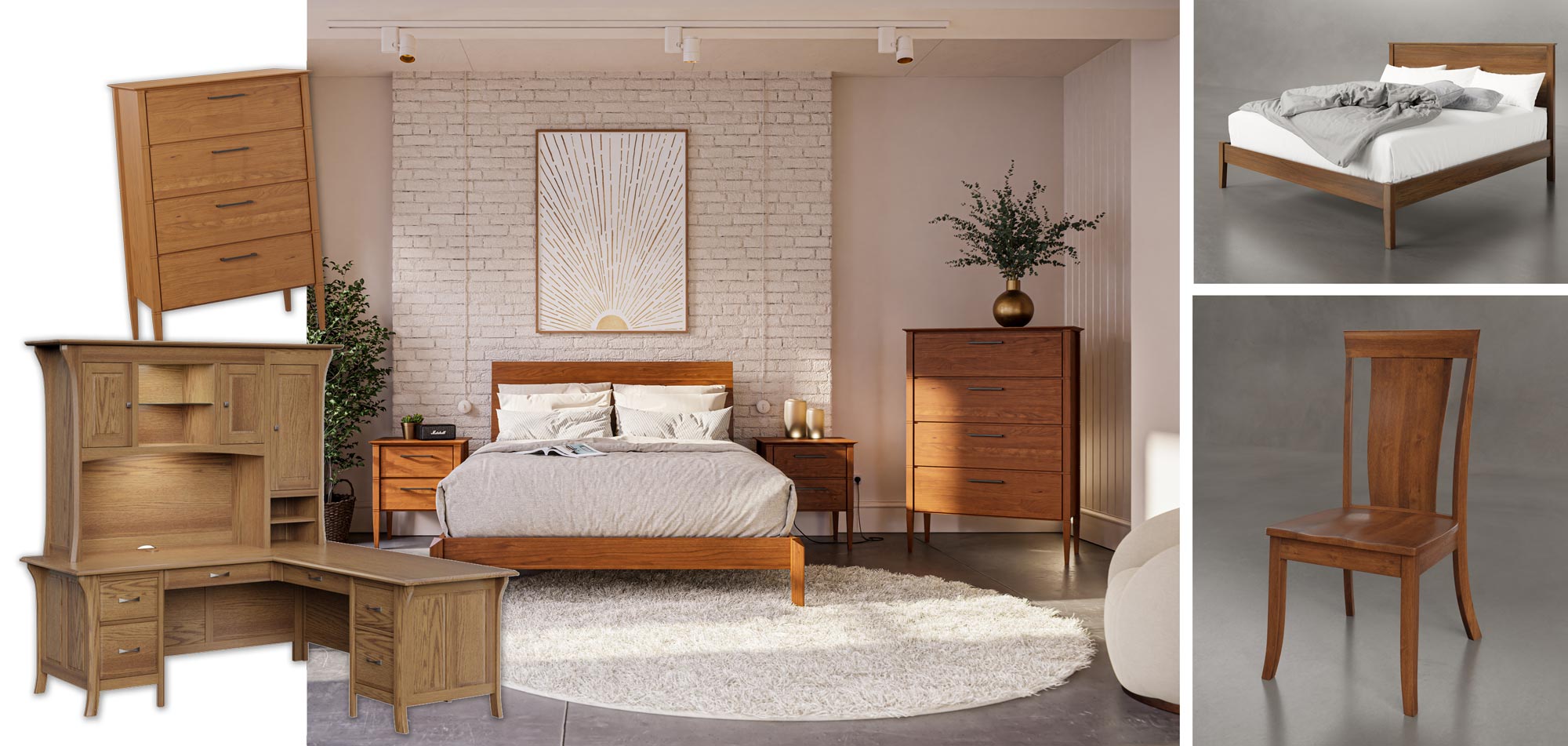 Shaker-style furniture originates from a small religious sect from the early 1800s, the "Shaking Quakers." The shakers viewed excess and ornamentation as prideful. As such, they designed furniture to match their convictions and lifestyle. Practical and simple, Shaker furniture has stood elegantly and remains a timeless pattern. The style fits seamlessly with Amish values and woodshop skills so it was quickly integrated into their products.
Shaker Furniture is often confused with the Mission style as they share similar attributes. Characterizations of Shaker pieces are wooden knobs, gentle curves on the bottom of case goods, tapered legs, graduated drawers, and lighter stains. This design allows these pieces to fit in with other furniture, colors, and decor already existing in a room by helping to brighten the space. More modern Shaker styles incorporate trim molding with gentle sweeping curves.
Modern Style
Bold Geometric Shapes • Strong Straight Lines • Sweeping Curves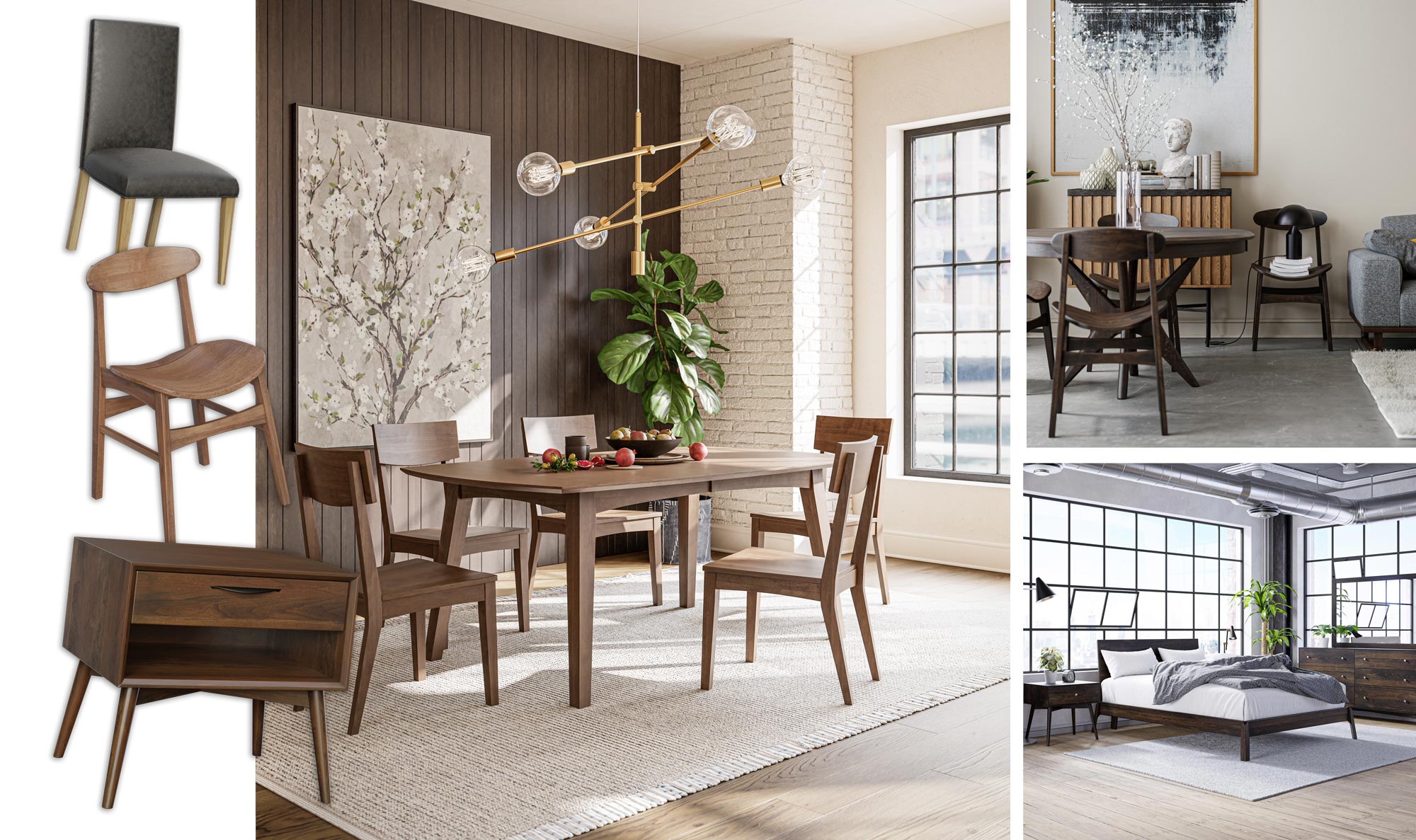 The Modern furniture style was born in the early 1900s but came to age in post-WW2 America, and it remained popular during the 1950s and 1960s. It mixed the functionality and simplicity of Mission with moxie. Some would even say that modern style can be a subset of Mission. This style is part and parcel of the architectural style from the period, and one of the most famous examples is Frank Lloyd Wright's magnum opus: Falling Water. Amish Craftsmen have embraced this style to update and rejuvenate the collections they offer. Interior designers often curate this style as higher-end furniture.
The mission style's personality is bold geometric shapes, straight and strong lines, and sweeping curves. Its minimalist design and smooth surfaces are often in warm, dark, neutral colors accented with vivid pops of color. Modern furniture is known to contain a mixture of different materials like plastic, vinyl, leather, and chrome-plated steel. Some subsets of this style are Mid-century Modern, Transitional, Eclectic, Minimalist, Boho-Chic, Scandinavian Minimalism, Casual-Chic, and Contemporary.
Rustic Style
Distressed and Natural • Metal Accents • Blocky Shapes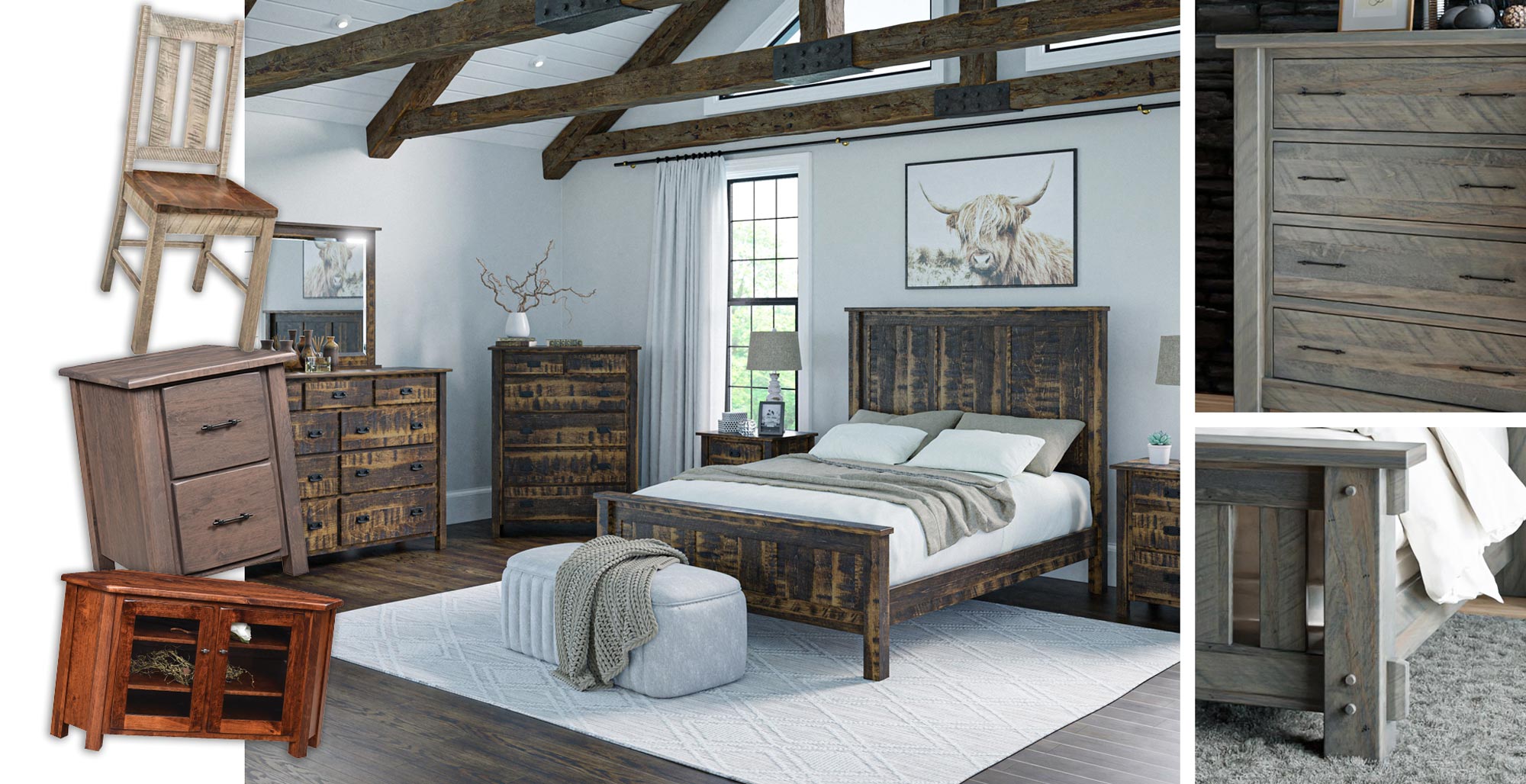 Rustic-style furniture highlights the imperfections furniture develops as you live with it. Instead of hiding the blemishes, this style embraces them as a mark of authenticity. The Rustic look contains darker, neutral hues and textures of the great outdoors. The Rustic look went beyond country cabins after it launched into popularity in the 2010s when Chip and Joanna Gaines – the hosts of HGTV's "Fixer Upper," became key figures to publicize the style. The Amish have excelled at reclaiming barnwood that's often over 100 years old by highlighting the burls and knots of the wood. On fresh wood, distressing and hand planning achieve this warm, worn aesthetic.
The rustic style balances the darker and cold grit of industrial metal accents and warm wood to bring cozy warmth to a room. These simple, blocky shapes and natural finishes don't have to be smooth; they can appear weathered or distressed. Homes with this style often feature exposed wood, fireplaces, shiplap, wide planks for floors and paneling, wooden beams, stone, brick, large windows, and decorated with plants to create a seamless connection between indoors and outdoors. Some subsets of this style include Industrial and Mod Farmhouse.
Conclusion
These five main styles of Amish furniture are a reminder of the variety in furniture designs these Amish craftsmen are capable of creating. Learning to identify these styles along with their characteristics will make you more knowledgeable on the showroom floor. As always, no matter what style your customers choose you can rest assured that the Amish craftsmanship will be used to create a long-lasting product that can be handed down for generations to come!